Wilder Penfield Elementary School
About Wilder Penfield Elementary School
---
For additional information please visit the school website.
Wilder Penfield Elementary School offers K4 to Grade 6.
Wilder Penfield is committed to creating an interactive, integrated school environment, in which every student develops a curiosity and love for learning, that will allow them to become competent, engaged ,successful citizens. Wilder Penfield students do not join a school but become part of the family. The Wilder Penfield staff works in partnership with parents to provide the best education and support to our students. We have a Dog Reading Program to encourage our struggling readers and help our more anxious students. Our Mindset room with our special education technician helps support every students needs whether it be social skills, anxiety, a break from the day, dealing with student conflict or a quiet space to work. We try very hard to provide every support a student needs to achieve success and increase their self confidence.

Programs

---
The Quebec Education Program (QEP) defines course requirements, content, competencies, progressions of learning and the framework for the Evaluation of student learning.
An Immersion school teaches all core subjects in French from Kindergarten to grade 2. This means that students spend the majority of their week in French. Once the students reach grade 3, English Language Arts is introduced and math is also taught in English until grade 6. This means that, from Grade 3 to Grade 6, students spend approximately half their week learning in English and approximately the other half learning in French.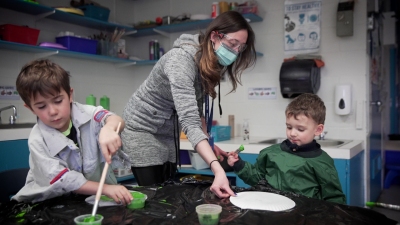 Contact Us

---
551 Westminster
Dollard des Ormeaux H9G 1E8
Office: 514-626-0670
Daycare: 514-626-0670
Email: Principal