St. Charles Elementary School
About St. Charles Elementary School
---
For additional information please visit the school website.
St. Charles Elementary School offers K4 to Grade 6.
At St. Charles we engage students in their learning through our STEAM program while placing a strong emphasis on French through Français Plus.

Programs

---
The Quebec Education Program (QEP) defines course requirements, content, competencies, progressions of learning and the framework for the Evaluation of student learning.
In a Français Plus school, all core subjects are taught in French from Kindergarten to grade 4. This means that students spend the majority of their week in French. Once the students reach grade 4, English Language Arts is introduced and math is also taught in English until grade 6. This means that, from Grade 5 to Grade 6, students spend approximately half their week learning in English and approximately the other half learning in French.
The STEAM approach is offered at some of our elementary schools. STEAM is an approach to learning that integrates Science, Technology, Engineering, Arts and Math. This project-based, multi-disciplinary approach, acts as an access point for guiding student inquiry, dialogue, and critical thinking, while simultaneously connecting to real-world scenarios.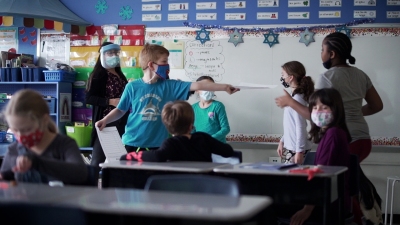 Contact Us

---
4331 Ste-Anne
Pierrefonds H9H 4G7
Office: 514-626-0480
Daycare: 514-626-2032
Email: Principal