Terry Fox Elementary School
About Terry Fox Elementary School
---
For additional information please visit the school website.
Through innovative practices and a nurturing environment, our passionate staff aims to empower students to become active global citizens in an ever-changing world by helping them to grow academically, physically, spiritually, socially and emotionally.
We want our students to:
Achieve personal growth, wellness, and academic excellence.
Develop a sense of social and environmental responsibility.
Cultivate mutual respect by practicing kindness, tolerance, and acceptance of others.

Programs

---
The Quebec Education Program (QEP) defines course requirements, content, competencies, progressions of learning and the framework for the Evaluation of student learning.
In a Français Plus school, all core subjects are taught in French from Kindergarten to grade 4. This means that students spend the majority of their week in French. Once the students reach grade 4, English Language Arts is introduced and math is also taught in English until grade 6. This means that, from Grade 5 to Grade 6, students spend approximately half their week learning in English and approximately the other half learning in French.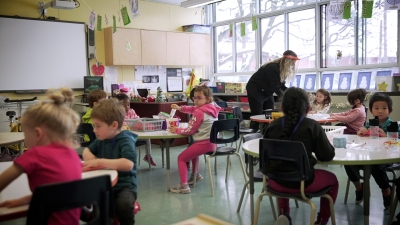 Contact Us

---
13350 rue Purcell
Pierrefonds H8Z 1P7
Office: 514-626-6253
Daycare: 514-626-6253, Option 2
Email: Principal