Sunshine Academy
About Sunshine Academy
---
For additional information please visit the school website.
Sunshine Academy offers K4 to Grade 6.
At Sunshine Academy we strive to create a positive school climate in which every student feels respected and safe. Engaging all students to achieve success and enjoy learning is paramount in our school. Within our teaching, we inspire students to connect, collaborate and develop their critical thinking and problem-solving abilities.
We foster creative expression, character development and digital citizenship across the curriculum in order to equip students with skills for the 21st century. Partnerships with parents and the community are an integral component at Sunshine as we are all stakeholders in their educational journey.

Programs

---
The Quebec Education Program (QEP) defines course requirements, content, competencies, progressions of learning and the framework for the Evaluation of student learning.
An Immersion school teaches all core subjects in French from Kindergarten to grade 2. This means that students spend the majority of their week in French. Once the students reach grade 3, English Language Arts is introduced and math is also taught in English until grade 6. This means that, from Grade 3 to Grade 6, students spend approximately half their week learning in English and approximately the other half learning in French.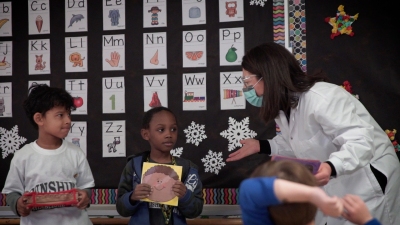 Contact Us

---
65 rue Sunshine
Dollard-des-Ormeaux H9B 1G9
Office: 514-798-5610
Daycare: 514-780-8974
Email: Office