St. John Fisher Elementary School
About St. John Fisher Elementary School
---
For additional information please visit the school website.
St. John Fisher junior campus offers K4 to Grade 2, and the senior campus offers Grade 3 to Grade 6.
Welcome to St. John Fisher!
The mission of St. John Fisher Elementary School is to bring all students to their highest individual potential in literacy (English and French) and numeracy by providing them with excellent learning opportunities, experiences, and role models. The school aims to promote and maintain a culture of Peace within a caring community which facilitates the academic, physical, personal and spiritual growth of the students.
St. John Fisher School encourages students to assume responsibility for their learning so as to enable them to become life-long learners. Our ultimate purpose is to help the student become a productive, caring, creative and confident member of a global community ready for challenges and to assume responsibility in a rapidly changing world.
We work hard at "Making each child a success story".

Programs

---
The Quebec Education Program (QEP) defines course requirements, content, competencies, progressions of learning and the framework for the Evaluation of student learning.
An Immersion school teaches all core subjects in French from Kindergarten to grade 2. This means that students spend the majority of their week in French. Once the students reach grade 3, English Language Arts is introduced and math is also taught in English until grade 6. This means that, from Grade 3 to Grade 6, students spend approximately half their week learning in English and approximately the other half learning in French.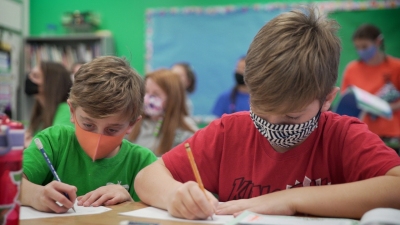 Contact Us

---
Junior Campus
87 Belmont
Pointe Claire H9R 2N7
Office: 514-798-0746
Daycare: 514-694-7144
Email: Administrative Assistant