St. Anthony Elementary School
About St. Anthony Elementary School
---
For additional information please visit the school website.
St. Anthony Elementary School offers K4 to Grade 6.
St. Anthony is early immersion school that is working towards becoming an International Baccalaureate World School. We are currently in the candidate phase with our authorization visit scheduled for April 2021!
Currently home to over 310 students, St. Anthony offers our students a safe, peaceful atmosphere to make friends and excellent academic programming. A big part of what makes St. Anthony special is our community consisting of staff, students and parents.
We look forward to our school community growing in 2021 with the registration of new K4 and K5 students! Please don't hesitate to call the school if you have any questions or inquiries!
St. Anthony Vision Statement
At St. Anthony School, we value the importance of stimulating learning partnerships amongst students, teachers, parents, and the community. We believe a child's elementary school life, in a safe and caring environment, lays the foundation for the development of a positive attitude towards lifelong learning within a global mindset.
All students are encouraged to aspire to high individual academic standards through our early immersion model in language arts, mathematics, science and technology, social studies, music, ethics and religious culture, drama and physical education.
We believe that all students can succeed to the best of their ability by encouraging open-mindedness, risk taking, being knowledgeable and inquisitive. By cultivating these abilities, our students will become caring and active learners' helping create a more peaceful world by demonstrating intercultural understanding and respect.

Programs

---
The Quebec Education Program (QEP) defines course requirements, content, competencies, progressions of learning and the framework for the Evaluation of student learning.
An Immersion school teaches all core subjects in French from Kindergarten to grade 2. This means that students spend the majority of their week in French. Once the students reach grade 3, English Language Arts is introduced and math is also taught in English until grade 6. This means that, from Grade 3 to Grade 6, students spend approximately half their week learning in English and approximately the other half learning in French.
The International Baccalaureate programme encourages students to become caring, active participants in their lifelong journey of learning. The programme empowers students to inquire into a wide range of issues and ideas of significance locally, nationally and globally.
The IB Primary Years Programme (PYP) offers an inquiry-based, student-centered, transdisciplinary, curriculum framework that builds conceptual understanding..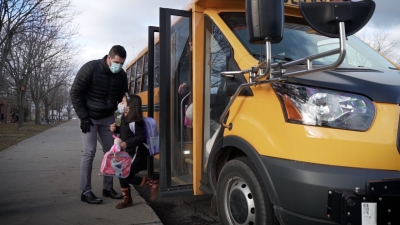 Contact Us

---
17750 rue Meloche
Pierrefonds H9J 3P9
Office: 514-624-6614
Daycare: 514-780-8975
Email: Principal