Sherbrooke Academy
About Sherbrooke Academy
---
For additional information please visit the school websites: Junior Campus | Senior Campus.
Sherbrooke Academy junior campus offers K4 to Grade 2, and the senior campus offers Grade 3 to Grade 6.
At Sherbrooke Academy, we engage, enlighten and empower our students to think critically and act compassionately.
Sherbrooke Academy serves communities in Beaconsfield and Kirkland. Divided into Junior (K4 to Grade Two) and Senior campuses (Grades Three to Six), the school offers an immersion program called Français Plus where students spend the majority of their time in French.
The school offers Physical Education, English Language Arts, and Music in both campuses in addition to the subjects taught by homeroom teachers.
Located just down the road from each other, each campus boasts large indoor and outdoor facilities. Each has multiple play structures and large play areas. Both campuses are also beside parks with large forest areas, soccer fields and baseball diamonds, and skating rinks in the winter. Both campuses make extensive use of these facilities in our unstructured time and in our Physical Education program which is largely based outdoors.
In the Junior years, parents and teachers get to know a child's full potential, strengths, and interests. It is during this period that the best approaches are uncovered to enable the child to flourish academically, emotionally and socially. The Junior and Senior Campuses work hand-in-hand throughout the academic year to build partnerships and friendships between students of each campus. These partnerships enrich the lives of all our students and help ease the transition from Junior to Senior when the time comes.

Programs

---
The Quebec Education Program (QEP) defines course requirements, content, competencies, progressions of learning and the framework for the Evaluation of student learning.
In a Français Plus school, all core subjects are taught in French from Kindergarten to grade 4. This means that students spend the majority of their week in French. Once the students reach grade 4, English Language Arts is introduced and math is also taught in English until grade 6. This means that, from Grade 5 to Grade 6, students spend approximately half their week learning in English and approximately the other half learning in French.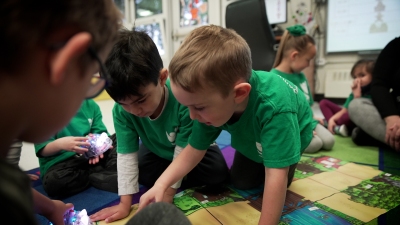 Contact Us

---
Junior Campus
230 rue Sherbrooke
Beaconsfield H9W 1W1
Office: 514-697-7830
Daycare: 514-697-5699
Email: Administrative Assistant
Senior Campus
13 Windermere
Beaconsfield H9W 1P5
Office: 514-798-0769
Daycare: 514-697-8516