Margaret Manson Elementary School
About Margaret Manson Elementary School
---
For additional information please visit the school website.
Margaret Manson Elementary School offers K4 to Grade 6.
Margaret Manson Elementary is an early immersion school in Kirkland, Quebec. The school was named after Margaret Manson, an educator whose career was as long as the list of children she impacted. She was an advocate for children who learn differently and believed that "children come first"! We embrace this value of inclusion and addressing the needs of all children is of prime importance to us. We work collaboratively with our parent community to provide a safe and peaceful environment that fosters personal and academic growth.

Programs

---
The Quebec Education Program (QEP) defines course requirements, content, competencies, progressions of learning and the framework for the Evaluation of student learning.
An Immersion school teaches all core subjects in French from Kindergarten to grade 2. This means that students spend the majority of their week in French. Once the students reach grade 3, English Language Arts is introduced and math is also taught in English until grade 6. This means that, from Grade 3 to Grade 6, students spend approximately half their week learning in English and approximately the other half learning in French.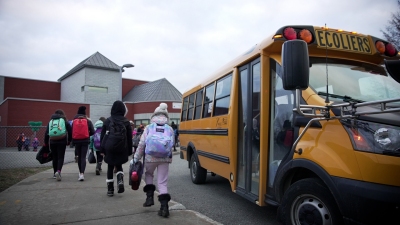 Contact Us

---
18750 Elkas Boulevard
Kirkland H9J 4C1
Office: 514-694-7808
Daycare: 514-630-9179
Email: Principal