Kingsdale Academy
About Kingsdale Academy
---
For additional information please visit the school website.
Kingsdale Academy offers K4 to Grade 6.
Kingsdale Academy is a diverse, community school. We focus on both the academic and non-academic growth of each student. We offer a bilingual program where students spend one day in English and one day in French. Students also enjoy attending physed, music, art, and dance. Students are also able to join various clubs, run by staff members, which helps grow leadership skills and foster global responsibility ie. recycling, composting, and much more.

Programs

---
The Quebec Education Program (QEP) defines course requirements, content, competencies, progressions of learning and the framework for the Evaluation of student learning.
A Bilingual school offers students two core subjects in English, namely English Language Arts and Mathematics while Science, Geography and History are taught in French. This means that, from Kindergarten to Grade 6, students spend approximately half their week learning in English and approximately the other half learning in French.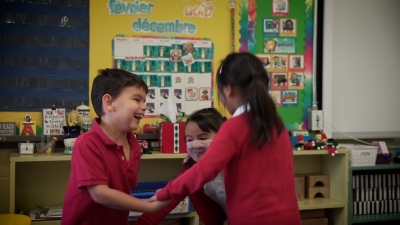 Contact Us

---
4381 King Street
Pierrefonds H9H 2E8
Office: 514-626-7880
Daycare: 514-620-9590
Email: Principal