Forest Hill Elementary School
About Forest Hill Elementary School
---
For additional information please visit the school website.
Forest Hill Elementary School junior campus offers Kindergarten (K5) to Grade 2, and the senior campus offers Grade 3 to Grade 6.
Welcome to Forest Hill!
Forest Hill Junior is committed to providing an innovative and nurturing educational environment where all students are given the opportunity and encouraged to reach their full potential.
We believe that school should be an exciting place and we work hard every day to engage our students in their learning. We understand that students need to move and we provide opportunities throughout the day for students to have movement breaks. We recognize that our students have different learning styles so we provide them with the opportunity to demonstrate their learning in a wide variety of ways. We strive to provide flexible learning environments that bring out the best in each child.
A special feature of our school is our Outdoor Classroom located in the forest in our playground and in the front yard for our Kindergarten students. This area allows us to take learning outside and encourages creative play. It is a magical space where our students love to be.
At Forest Hill Junior, we are a family. We understand the importance of connecting with our students and making them feel like this is a second home for them. Our goal is to ensure that students at Forest Hill Junior feel safe, respected and happy because when students feel safe, respected and happy………they are ready to learn.

Programs

---
The Quebec Education Program (QEP) defines course requirements, content, competencies, progressions of learning and the framework for the Evaluation of student learning.
An Immersion school teaches all core subjects in French from Kindergarten to grade 2. This means that students spend the majority of their week in French. Once the students reach grade 3, English Language Arts is introduced and math is also taught in English until grade 6. This means that, from Grade 3 to Grade 6, students spend approximately half their week learning in English and approximately the other half learning in French.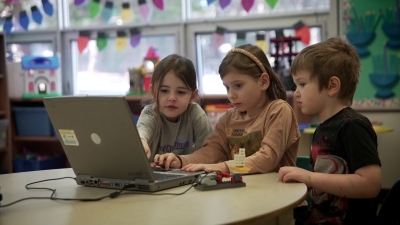 Contact Us

---
Junior Campus
1950, rue Chanterel
St. Lazare J7T 3C2
Office: 514-798-0777
Daycare: 514-798-1717
Email: Principal
Senior Campus
1449, rue Bedard
St. Lazare J7T 3B4
Office: 514-798-5556
Daycare: 514-798-5557
Email: Principal