Dorset Elementary School
About Dorset Elementary School
---
For additional information please visit the school website.
Dorset Elementary offers Kindergarten (K5) to Grade 6.
At Dorset Elementary, student success is fostered through a comprehensive curriculum, effective and innovative teaching strategies, ongoing professional development and continuous support of individual student growth. We strive to provide a safe and caring climate, in which respect and trust is cultivated between all stakeholders; students, staff, parents and the larger community.
The community of Dorset Elementary is dedicated to educating lifelong active learners who are respectful of self and others, effective bilingual communicators and technologically literate. We achieve this by providing a safe and caring climate. A Dorset graduate will be self-confident, a creative problem solver and a successful and productive member of a global community, ready for the challenges and responsibilities of being a contributing citizen within a rapidly changing world.
The community of Dorset Elementary strives to provide a community school where parents feel welcome to become partners in their child's education, where commitment to learning and success for all is a priority. Dorset is proud to remain committed to working with our community in order to enrich our students learning and experiences. We look forward to working alongside you.

Programs

---
The Quebec Education Program (QEP) defines course requirements, content, competencies, progressions of learning and the framework for the Evaluation of student learning.
An Immersion school teaches all core subjects in French from Kindergarten to grade 2. This means that students spend the majority of their week in French. Once the students reach grade 3, English Language Arts is introduced and math is also taught in English until grade 6. This means that, from Grade 3 to Grade 6, students spend approximately half their week learning in English and approximately the other half learning in French.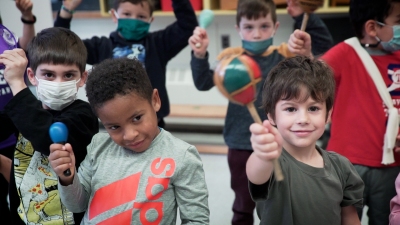 Contact Us

---
106 Dorset Road
Baie D'Urfé H9X 2Z6
Office: 514-457-3631
Daycare: 514-457-3920
Email: Office